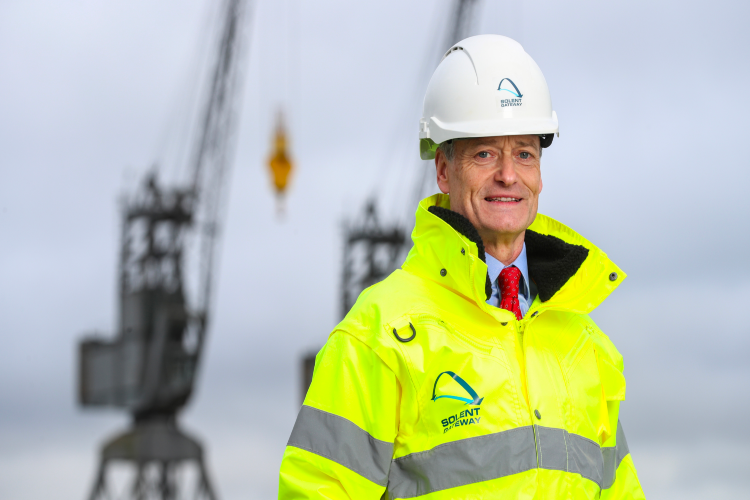 Richard Parkinson, Port Director at Solent Gateway
23 November 2021
As the UK takes its first steps to recovery in the wake of the pandemic, construction activity is expanding at its fastest pace since June 1997 and the demand for building materials is higher than ever. COVID-19 has put incredible pressure on global supply chains and this disruption, teamed with the rise in cost of materials, could mean further issues are on the horizon. We know the HGV driver shortages are likely to continue for the foreseeable future, but there must be considerations for when the market stabilises and future ways of working.
At Solent Gateway's 225-acre Marchwood Port on the south coast of England for example, it is awaiting planning permission for an aggregates handling/processing plant with associated asphalt and concrete projects. Aggregates would then be imported through the port for onward distribution and supply the onsite batching of asphalt and concrete, which will supply local, regional and national construction projects.
The port offers both open and closed storage options as well as sea, road and rail access. With its Freeport status, typical VAT and customs rules don't apply which makes it cheaper and easier for many raw materials entering the UK, teamed with simplified planning rules which helps the port quickly build or adapt premises where needed. Marchwood Port will be one of the very first Freeport tax and customs sites that has new space available for business, so it's a unique, cost-effective opportunity on offer in an optimum location, which results in the avoidance of cargo having to go through Southampton city centre.
Marchwood Port started life as an MoD cargo port in 1943 and was only partially developed. There is much opportunity to use the capacity available and until now, there has never been access to commercial business. The added bonus of being a former MoD site is the high level of security for your cargo.
The dedicated rail line is a relatively unique offering which allows you to load straight from vessel onto rail and move goods across the UK through the national rail network whilst reducing the traffic on the roads. In the current climate, it would also alleviate some of the stress associated with the current HGV driver shortages. The rail connectivity takes you to the main line at Totton and from there north into the UK's industrial heartland.
Marchwood Port is just 15 minutes to the M27 and M3 motorways. We offer many incentives for new business including the option for you to take land from us and build your own bespoke storage facility and utilise our highly-skilled port operations team for your cargo handling needs. At Solent Gateway, we enjoy collaborative partnerships with our customers and strive to create the best possible port environment to allow businesses to thrive.
Our ROLO and LOLO capability means we're able to accommodate a broad range of cargoes including large vessels at our docks. We have the unique facility to load straight onto our railway structure to move goods across the UK. So, whether you need support with high-priority, fast-moving freight or slower freight which needs short or long-term storage, we have a range of options to support your business.
Whilst there is no silver bullet for the combinations of complex challenges faced by supply chains, one suggested approach is to put port-centric warehousing at the heart of your UK distribution strategy.
The port-centric model is very simple. Rather than transporting your aggregate hundreds of miles inland to primary distribution centres, the storage facilities are located close to, or within key ports with Freeport status like Marchwood. By doing so, you take costly, time-consuming links out of the supply chain, replacing them with seamless, simple solutions from ship to doorstep.
Although every aggregate business will be facing similar challenges, we're committed to doing all we can to solve these and provide support to those where we're able to offer solutions.
For more information on Solent Gateway and what it can offer your business, visit
Solent Gateway or email Chris Anderson on chris.anderson@solentgateway.com
Back to Articles