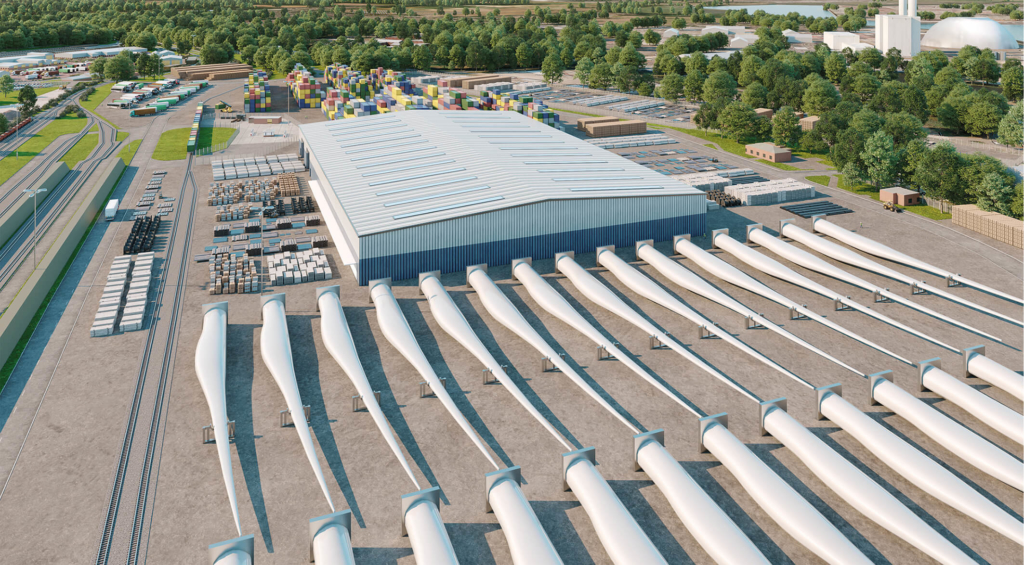 17 December 2021
Solent Gateway, the UK's fastest growing port, is offering a unique opportunity for the renewables sector with its designated Freeport status complemented with sea, road and rail access, opening substantial growth opportunities in the region.
The Sector Deal between the offshore wind industry and the UK Government in 2019 created certainty – unmatched by other European governments – that the UK will remain the anchor market for offshore wind. In the Solent region, this has created the potential for businesses to increase their involvement in key services such as designing, building and operating offshore wind farms, as well as manufacturing blades, turbine towers and cables. The region is proving to be well-positioned to support the growth in exports and, since the Sector Deal was made, the government has developed regional offshore wind clusters, which includes Solent, and has the ambition to increase the industry's productivity, competitiveness and innovation while helping to grow the coastal economy.

Part of this growth includes Solent Gateway's 225-acre Marchwood Port on the south coast of England, which offers a convenient and versatile strategic base for commercial stakeholders in the renewables supply chain. Solent Gateway already has a successful track record in the sector, handling wind blades that have been shipped to the port from Vestas on the Isle of Wight, where the company manufactures the largest offshore wind turbine blades in the world for the record-breaking V164-8.0 MW turbine.
Richard Parkinson, port director at Solent Gateway said: "The facilities we have at the port for handling abnormal loads, together with our experienced operations team, means we have the flexibility and capability to handle complex bespoke project lifts. We are seeing more businesses take advantage of us having the capability to move large parts safely from the quayside to a suitable holding area before being transported throughout the UK or transhipped onto other ocean-going vessels.
"When the Freeport tax and customs site status is confirmed, it will be cheaper and easier for many raw materials to enter the UK for use in manufacturing within the Freeport. Teamed with simplified planning rules, this can help us quickly build or adapt our premises where needed. We are fortunate to be one of the very first Freeport tax and customs sites with new space available for business, so it's a unique and cost-effective opportunity.
"Being both a customs and tax site with over 64 hectares at our disposal, it's likely that the businesses that will benefit most from using a site like Solent Gateway, under the Freeport status, would be those which want to develop new facilities and operations. This would see them benefiting from incentives to attract new business: importing goods and components to the UK; storing goods for as long as they want without facing customs duties after 90 days; and manufacturing or assembling products, as import duties are paid on final product or component parts when they leave the Freeport, whichever is cheaper. Any organisation that wants to import, manufacture and export within a customs site will avoid all duties. Any business that wants to store items for more than 90 days may also benefit."
Marchwood Port started life as an MoD cargo port in 1943 and was only partially developed. There is much opportunity to use the capacity available and until now there has never been access to commercial business. The added bonus of being a former MoD site is the high level of security for the cargo.
The dedicated rail line is a relatively unusual offering, which allows loads to go straight from vessel to rail and move goods across the UK through the national rail network whilst
reducing the traffic on the roads. In the current climate, it is also proving popular in alleviating some of the stress associated with the current HGV driver shortages. The rail connectivity takes you to the main line at Totton and from there north into the UK's industrial heartland.
Solent Gateway is just 15 minutes to the M27 and M3 motorways and the port offers many incentives for new business, including the option for businesses to take land and build their own bespoke storage facility and utilise the port's highly-skilled port operations team for your cargo handling needs. Solent Gateway prides itself on collaborative partnerships with its customers and strives to create the best possible port environment to allow businesses to thrive.
The port's ROLO and LOLO capability means Solent Gateway is able to accommodate a broad range of cargoes, including large vessels on its berths. It boasts the unique facility to load straight onto our railway structure to move goods across the UK. So, whether you need support with high-priority, fast-moving freight or slower freight, which needs short or long-term storage, there are a range of options to support your business.
For more information on Solent Gateway and what it can offer your business, visit
Solent Gateway or email Chris Anderson on chris.anderson@solentgateway.com
---
For more information or imagery, please contact Chloe Buchanan at The MTM Agency by emailing chloe@themtmagency.com or calling 023 8021 5399.
Back to Articles